Boost your immunity this winter
Flu vaccine and COVID-19 Booster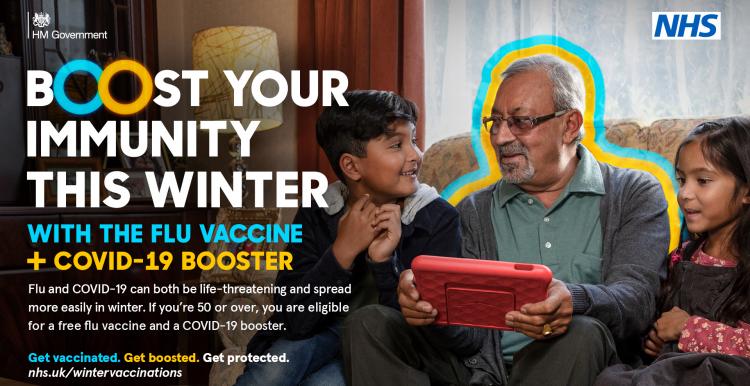 Flu and COVID-19 can both be life threatening and spread more easily in winter.
COVID-19 booster
Booster vaccine doses will be available on the NHS for people most at risk from COVID-19 who have had a 2nd dose of a vaccine at least 6 months ago.
This includes:
people aged 50 and over
people who live and work in care homes
frontline health and social care workers
people aged 16 and over with a health condition that puts them at high risk of getting seriously ill from COVID-19
people aged 16 and over who are a main carer for someone at high risk from COVID-19
people aged 16 and over who live with someone who is more likely to get infections (such as someone who has HIV, has had a transplant or is having certain treatments for cancer, lupus or rheumatoid arthritis)
People who are pregnant and in 1 of the eligible groups can also get a booster dose.
For more information please visit:
Flu vaccination
The flu vaccine is a safe and effective vaccine. It's offered every year on the NHS to help protect people at risk of getting seriously ill from flu.
The best time to have the flu vaccine is in the autumn or early winter before flu starts spreading. But you can get the vaccine later.
For more information and who is elligible please visit: