Patient transport service changes
North East Ambulance Service to begin transporting multiple patients on scheduled care ambulances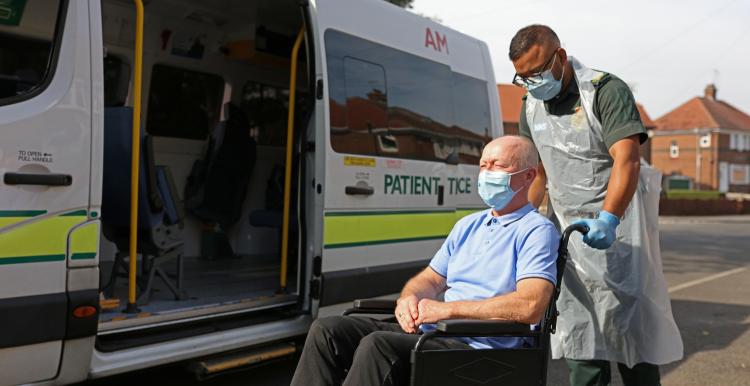 From Wednesday, 18 May, North East Ambulance Service will begin transporting multiple patients on scheduled care ambulances again now that there is no longer a national requirement to undertake physical distancing on scheduled care services. 
To ensure the safety of vulnerable patients travelling on board, infection prevention precautions will remain in place such as mask wearing for both staff and patients, vehicle and equipment cleaning after every patient, and patients will be grouped according to their condition to minimise the risk of exposure to Covid.
Risk assessments will be undertaken locally to determine transport arrangements for vulnerable patients i.e., immunosuppressed / immunocompromised.
Patients will be grouped as followed:
Multiple non-positive patients will be transported together
Confirmed cases of the same infection such as Covid can be transported together. Patients who are known to be positive with an infectious disease should be isolated from other (non-positive) patients.
Cars (including voluntary ambulance car service and private hire taxis) will carry 3 patients maximum. 1 located in the front passenger seat, 2 in the rear with a space between. All patients to have access to their own window to allow manual ventilation. Under no circumstances should confirmed infectious cases be transported in a car.
Frequently asked questions:
How will patients know they are safe on board?
At the point of booking, a patient will be assessed prior to being grouped. Patient safety is our highest priority and infection prevention measures will remain in place.
What is a patient develop symptoms?
If a patient becomes symptomatic they will be required to contact the booking agent and inform of symptoms. The patient should also advise the crew on arrival so necessary infection control precautions can be applied.
Will a journey now take longer if NEAS is collecting/dropping off other patients?
Journeys will now include picks ups and collections and take longer.  NEAS will be able to transport more patients by carrying multiple people, which means they will be able to provide an improved service.
Can an escort still travel with a patient?
Only essential escorts / carers may be permitted to travel however they must wear masks and be advised on good hand and respiratory hygiene and not to travel if they are feeling unwell or have symptoms of infectious illness including for example COVID-19, norovirus. 
Do I still have to wear a mask if I'm exempt? 
All transported patients must wear a surgical mask unless medically exempt. Where patients are identified as medically exempt, they are permitted to travel with other patients if they are well and asymptomatic of respiratory symptoms. Universal mask wearing (FRSM) for all staff and patients/escorts/carers will still be required whilst in the clinical setting. Patients will be required to wear surgical masks (unless medically exempt) whilst on ambulance transport and when in clinical settings. 
Can patients who have respiratory symptoms be transported with other patients?
Patients who have respiratory symptoms and are not confirmed SARS-CoV-2 positive can be transported with other patients based on local risk assessment however must wear a surgical face mask. There is no requirement for physical distancing.  SARS-CoV-2 positive patients should not be transported with other non-positive patients. If a patient has symptoms and is mask exempt, they should be transported separately whilst community rates remain high.
Can a confirmed respiratory infectious patient travel in an RRV, car or taxi?