Healthwatch Sunderland Patient Participation Groups event - March 2016
Read our report around our Patient Participation Group event.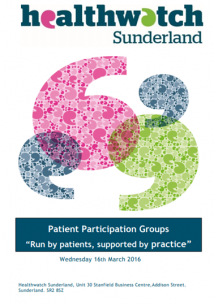 Summary
From April 2016, the Sunderland Clinical Commissioning Group (SCCG) began to contract General Practitioner (GP) services for Sunderland.
It is now a contractual requirement for all practices to form a Patient Participation Group (PPG) and to make reasonable efforts for this to be representative of the practice population. The purpose of the PPG is to ensure that patients and carers are involved in decisions about the range, shape and quality of services provided by their practice.
We held an event in March 2016 for Practice staff and Patient group members to discuss and agree the key things to have an effective PPG.
If you are interested in joining your PPG please get in touch with your GP practice - they would love to hear from you!