Early launch for the #NightwearBeforeChristmas campaign
Bag an extra pair of pyjamas plea as hospital teams hope to give patients a Merry Christmas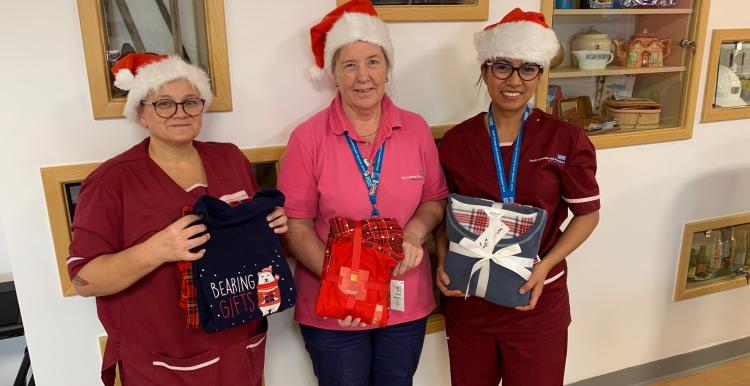 Christmas shoppers are being asked to pop another pair of PJs into their basket as the NHS looks to make this festive time a cheerier one for hospital patients.
This year, the #NightwearBeforeChristmas campaign has been launched extra early in a bid to boost the number of gifts ready to hand out.
The annual appeal is run by South Tyneside and Sunderland NHS Foundation Trust to make Christmas a happier for inpatients.
The pyjamas and nightgowns are handed out on Christmas Eve at South Tyneside District Hospital and Sunderland Royal Hospital.
This means the patients have something to open on December 25 or a new pair of nightclothes to wear the night before.
The Delirium and Dementia Outreach Team (DDOT), which is based at the Alexandra Centre at Sunderland Royal Hospital, help co-ordinate the donations and distribution there.
The Discharge Lounge at South Tyneside District Hospital leads the effort to cover wards where older patients are cared for on its site.
Claire Boylan, Elder Life Specialist Practitioner with DDOT, said:
"This year we're kicking off the campaign even earlier, as we know that the shelves are often cleared of pyjamas and nighties quite quickly in the run up to Christmas.

"If you're out doing your shopping or buying online, we'd be so grateful if you're able to add another pair to your bag.

"It will make a huge difference to the patient who is given that present from you. Quite a few of our older people on our wards don't have family nearby or they may be in our care for some time.

"We work really hard across our hospitals to make the festive time a good one for our patients.

"Anyone who sends on a pair to hand out will bring a smile to a patient's face and warm their heart."
Julie Woodhouse, who manages the Discharge Lounge at South Tyneside District Hospital, added:
"We know the South Tyneside community is hugely kind and generous and we would love to see people get behind this year's Nightwear Before Christmas appeal.

"Handing out the gifts in the run up to Christmas Day is a lovely job to do. We've seen first-hand the joy it brings to our patients. It cheers them up when they're not feeling well and we know it means a lot to them."
Larger sizes are often most in need for patients and can be most comfortable. It is best if they are made from cotton.
The teams ask if they can be wrapped by their kind donors, with a label added to say what size they are and if they are for a man or woman.
The hospitals are also welcoming slippers, which need to have backs on them, as well as toiletries, including razors, but not creams.
Novels, puzzle and colouring in books and colouring in materials will be gratefully received and will be handed out too.
Anyone who would like to donate to the Sunderland appeal can drop off their donations at the Alexandra Centre, which is on E Floor.
It is open from Monday to Friday, 8am to 4pm, with a post box next to the entrance if items are dropped off outside of these times.
Anyone who would like to know more can call DDOT on:
0191 569 9766.
People who would like to support the South Tyneside District Hospital appeal can drop them into the Discharge Lounge, which is next to the Moorlands Unit.
The lounge is opened from Monday to Saturday between 8am and 8pm and from 8am to 6pm on Sunday.
Anyone with queries can contact the lounge on:
0191 404 1193.