Enter & view, Sunderland Eye Infirmary, 2016
Having received positive feedback from a number of service users of Sunderland Eye Infirmary we decided to carry out an enter and view visit to discover what they thought made it a good service.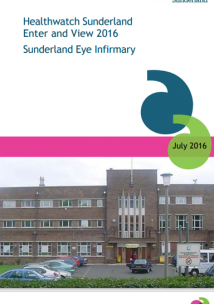 Summary
Trained Healthwatch Sunderland authorised representatives were selected to carry out the visit.
Standard questions were asked to both patients and staff and the Enter and View team spoke with 13 patients in total and assisted with the completion of a questionnaire. Four staff from different departments were also spoken to in person.
We visited the Accident and Emergency Department, the Macular Unit, Haygarth Ward and the Outpatients Department.
What is enter and view?
For more information regarding enter and view please read our
policy and factsheet