What you told us about COVID-19 – general health & wellbeing - July 2020
Read our report on what you told us about services during the COVID-19 pandemic.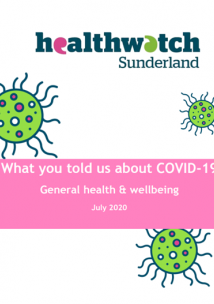 Summary
This report covers the views of those individuals who responded to our survey which looked at people's general experiences of using health and social care services during the COVID-19 pandemic.
We have also developed a summary of this report.
Responses from service providers
We have received some responses to our report from the following service providers:
All Together Better
Sunderland Clinical Commissioning Group
Public Health, Sunderland City Countil
These responses are in the download list below.
Download our report, our summary and the responses we have received from the service providers.