This report covers people's experiences of accessing their GP practice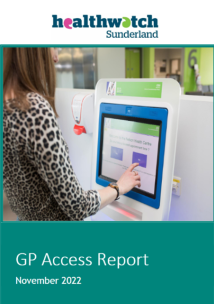 Summary
During August and September 2022 in partnership with the North East and North Cumbria Integrated Care Board (ICB), we designed and launched a survey to gather people's experiences of accessing their GP practice.
This piece of work is a priority for Healthwatch Sunderland for 2022-2023 and was chosen by members of the public.
Following the publication of our report we received this response from the NHS North East and North Cumbria Integrated Care Board (ICB):
"The views and experiences of patients with regards to GP access are very important to the North East and North Cumbria ICB. We want to understand any barriers or challenges patients may be facing and work to try and improve these issues.

The survey Healthwatch carried out received a fantastic response and the report that has been published has provided some invaluable insights that we can now work with to help improve access for patients going forward."
Programme of current work and pilots:
Digital Triage pilots – practices were invited to take part in trialling different triage tools in practice to assess whether this can help with access issues, and getting the patient to the most appropriate person at the right time. This is a 6 month pilot and a number of practices are taking part with different systems do that these can be evaluated correctly.
General Practice Access Incentive Scheme – practices have been invited to sign up to a scheme in which they need to identify an area or issues within the practice that they believe is a barrier to access, and then plan and implement the improvements etc, they will also focus on the 8am rush and what they can do differently.