Care in the home services
This report covers people's experiences of accessing care in the home services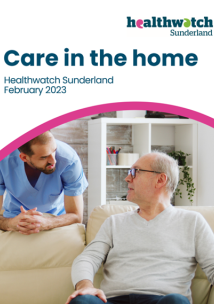 Summary
During October and November 2022, in partnership with Sunderland City Council, we designed and launched a survey to gather people's experiences of receiving care in the home, also known as domiciliary care. 
This piece of work is a priority for Healthwatch Sunderland for 2022-2023.
It is encouraging to see high levels of satisfaction among people who receive domiciliary care and I am pleased to see so many of them and their families report that they feel their carers know them well.
Equally the report also helps us to identify areas where we can improve the service going forward which will feed into our overall review of what future services people need to keep them independent and at home. I'd like to thank everyone who took part in the survey.