Let's make mammograms easy
We demonstrate how we have successfully campaigned for accessibility improvements to national breast screening programme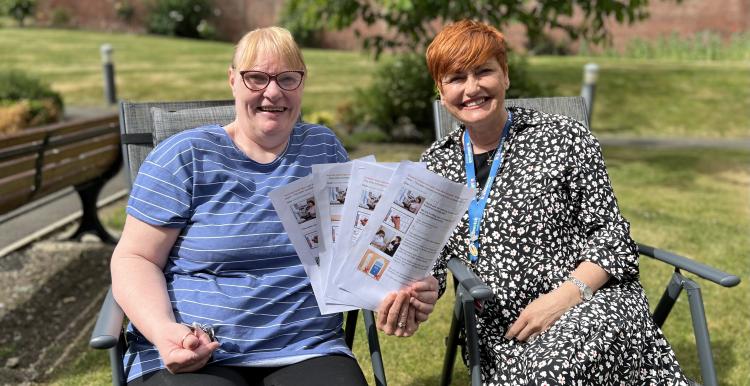 Summary
Breast screening patients across England are set to benefit from more accessible communications thanks to a woman joining forces with us for vital improvements.
Sharon Bell who has learning disabilities, received an invitation for a routine mammogram in easy read - a format which she needs to fully understand written information about her care.
But when the results of the mammogram meant that Sharon had to be recalled for further tests, the additional letters she received were not in easy read, meaning the 58-year-old had difficulty following them.
Sharon highlighted her experiences to us, which raised the issue with national bodies NHS England and NHS Improvement. As a result, a series of template follow-up letters have now been translated into easy read, improving the experiences - and potentially the safety - of countless breast screening patients across the country.
Sharon said:
"When I received the letter to go to the hospital I didn't know what it said, as it wasn't in easy read. This made me nervous, but I spoke to Healthwatch and now I feel really good that we have been able to help so many women across the country who need easy read letters."
Tara Johnson, Project Lead of Healthwatch Sunderland, said:
"It was very concerning that lots of women who needed further investigations after routine mammograms were not receiving letters in formats they could understand, as this could cause unnecessary additional worry and distress and could potentially have safety implications if appointments are missed and delays caused to diagnosis.  
Thank you
We would like to thank Sharon for sharing her story, as without her concerns we may have never known there was a gap in access to breast services and achieved this fantastic outcome.
Healthwatch England National Director Louise Ansari said:
"This is a brilliant example of a Healthwatch achieving real change which will benefit both its local community and women across England. I would like to congratulate Sharon for speaking up and working with Healthwatch Sunderland to campaign for this welcome improvement. 

"Regrettably, reports of people not receiving information about their care in formats they can understand are all too common, despite the introduction of the Accessible Information Standard in 2016. That's why we launched our Your Care, Your Way campaign earlier this year to hold services to account and improve the experiences of people who have additional communication needs due to a disability, impairment or sensory loss."
Sharon is a founder member of Sunderland People First, a group of self-advocates with learning disabilities and autistic people, since it was created in 1994 and recently announced her retirement after 28 years of campaigning for the rights of people with a learning disability.
Commenting on how important it is to have supported women with a learning disability to attend cancer screening, Sharon added:
"People need easy read information at the start to understand what is involved. This can help you feel confident to ask any questions and think about what would make your screening appointment easier for you."
Speaking up is never easy, especially when you are talking about screening services. As a self-advocacy group, we have developed a brilliant relationship with our local Healthwatch team. Sharon was so brave to share her story about breast screening services and her anxiety about follow up appointment letters. Sharon was supported by Wendy and the team to follow-up her concerns and was supported at every stage. Sharon has now retired after 28 years at Sunderland People First. I love that Sharon's last work as a self-advocate at Sunderland People First was being supported by Sunderland Healthwatch to make a difference to women with a learning disability across the country to make breast screening services accessible for everyone.