Easy read breast screening recall letters now available for all patients who require them nationally
We demonstrate how self-advocacy works in joint appeal for easy access to breast services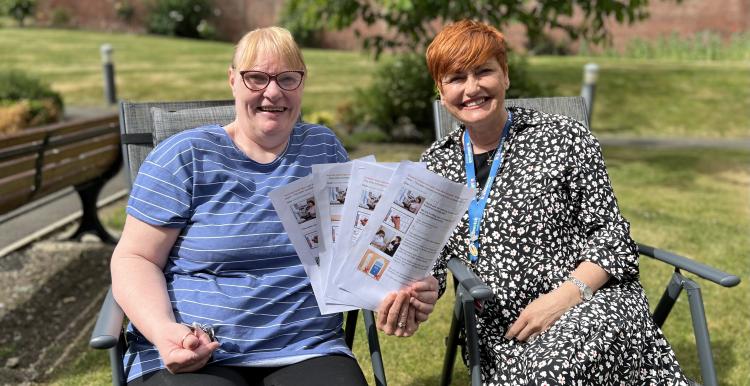 During an engagement session with Sunderland People First (a local advocacy service for people with a learning disability or autism), we were informed about a member's recent experience of using the breast screening service.
During the session Self Advocate, Sharon shared her delight after receiving her initial invitation for her breast screening appointment in an easy read format and then her subsequent disappointment at receiving a follow up letter, calling her back to clinic for further tests, in a format she couldn't understand. She explained that she felt this had taken away her independence, as she had to rely on her sister to explain the contents of the letter to her.
In response to this feedback we carried out some initial research and found out that easy read breast screening letters are produced by Public Health England and there are three additional letters for patients when being recalled to the service. Unfortunately, however none of these recall letters were available in an easy read format for those patients who required them.
Following this up, we met with staff from Public Health England Screening, to discuss the need to make reasonable adjustments and provide letters in an easy read format, at all stages of the patient's treatment. The team agreed that this needed to be actioned and started working on developing the letters.
What difference did this make
After 15 months the letters were finalised by the Public Health team and are now available, ensuring patients have access to clear information about their treatment in a way that is accessible and clear.
You can see the letters by accessing the Gov.uk website:
The team fed this good news with Sharon, who said.
"I am really pleased that I shared my story with Healthwatch Sunderland, and that action has now been taken by the Public Health England Screening team, to make sure that information in the future is accessible. I hope that this will make it easier for women with a learning disability to attend their appointments, to know what will happen and be able to ask any questions if they are worried."
Speaking up is never easy, especially when you are talking about screening services. As a self-advocacy group, we have developed a brilliant relationship with our local Healthwatch team. Sharon was so brave to share her story about breast screening services and her anxiety about follow up appointment letters. Sharon was supported by Wendy and the team to follow-up her concerns and was supported at every stage. Sharon has now retired after 28 years at Sunderland People First. I love that Sharon's last work as a self-advocate at Sunderland People First was being supported by Sunderland Healthwatch to make a difference to women with a learning disability across the country to make breast screening services accessible for everyone.